Miss Loretta Gooden
Founder & Lead Vocals
Hailing from San Francisco, California,

Miss Loretta Gooden the second girl and fifth child among 12 children was in 3 singing groups by age 13; two within the family. She developed an ear for harmony very early and her powerful delivery, even at that age, catapulted her professional career in the right direction. Managed by her mother and mentor, her gospel roots are easily identified in each song. Loretta has traveled near and far to bring and share her musical message through song, which she believes is the universal language.
"At 19, I opened a gospel concert for Shirley Cesar, the Queen of Gospel, at the San Francisco Auditorium and by the age of 24, had performed in several plays at the San Francisco Opera House and featured in a special performance for (then Mayor of SF now Senator) Diane Feinstein. Voted the best female gospel group and background of Northern California (Bay Area Music Magazine), I sang and toured with my sisters over 20 years as The Angeletts of San Francisco driving to and from Oklahoma along the coastline back to Seattle, Washington in an RV and two other groups over 6 weeks. From there sang for Willie Brown's Inaugural Ball and private parties. Later when my daughter graduated from high school, I began singing the smooth jazz of the late great ladies of jazz; Billie Holiday, Nancy Wilson, Dinah Washington, Sarah Vaughn, Bessie Smith, Jo Stafford and those I grew up listening to my mother sing. She had a beautiful voice, a brilliant whistle and played the piano and organ like she was born to it. With feeling enough for us all. I think she was one of the most passionate singers and musicians I've ever known. I just want to share what music makes me feel." Miss Loretta Gooden
With the 100th Monkey of Seattle (hip-hop)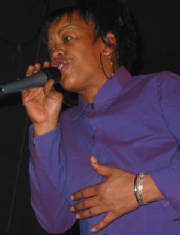 "I just want to write my own music and share my feelings about what a song makes me feel."
Only a fraction of where music has taken me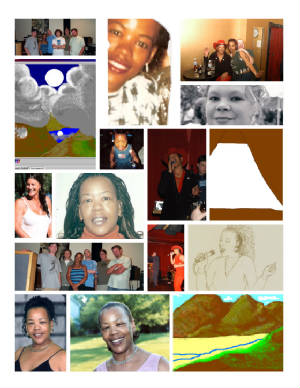 My life in the various states I've traveled and lived in. It truly is A WONDERFUL LIFE
Portrait by Jane Webster 2008
Miss Gooden manages and is the founder of the GPP.
MY BRUCE WILLIS STORY COLUMN
As my first column concluded, Bruce looked me square in the eye as he assisted me in stepping up onto the stage and (I couldn't help it, yall) I eagerly and securely hugged him around his neck shouting over the music into his ear that I would appreciate just one minute of his valuable time. He granted it. I couldn't wait to say all those things I always thought I would say if I ever met him, not to mention all the things others have said to say to him if I ever met him.

After a 50 minute set, we took a break and Bruce snatched me off stage by the hand and we went downstairs to the green room appropriately called "Bruce Willis Private Eye". 10 minutes went by before I asked him for my 60 seconds of his time. He said okay. I immediately got down on the floor and joined him in his stretches, so as not to waste his time and make him stop doing what he does as a routine.

I began rambling off all the things other people had asked me to say to him if I ever met him. Especially my dauther, Balynda, who loved him in all the Die Hard series movies. As I described the best parts he asked specific questions and corrected me on which movie was which. It was so cool having a real conversation with him. Five minutes later we were back up on stage.

Bruce had some special guests on stage with us, from time to time; one being (I forget his name) the owner of Krispy Kreme Donuts - a personal friend of the Bruce. He played harmonica as well and danced, covering every inch of that stage. He was fun to watch.

The Accelerators are a fun and quality bunch of seasoned musicians who remain with patience and generosity with their valuable time. I was honored.

When I was in transition and between temporary residences, I was fortunate to have BW's Director invite me to stay in one of the side-houses for visiting musicians. A whole half of a house to myself. Three weeks later, I had my own place.

It was always a pleasure to see Bruce walking through the club bopping his head to the music we were performing. He'd sit down and lean back. He has always been sexy but in a white t-shirt and fitted jeans with boots, don't get me started.

He would take off his shirt during performances and say things like 'never be happy'. It was so cool to take a closer look at the personal side of the man ... the icon.

(revised 6-30-09)
Miss Loretta with the Jerry Garcia Band (2005). Live in Salem, Missouri; August 2005 featuring Melvin Seals who keeps the flame alive.



Based out of San Francisco, I've actually known Melvin Seals since he played organ for my sisters and I back in the late 70's early 80's. It was good to work with Melvin again. We also played with a band called Zero who had Robert Hunter write some songs for them. Awesome!
Schwagfest in Salem, MO October, 2005
Miss Loretta with the Jerry Garcia Band (JGB)
The 100TH MONKEY featuring Miss Loretta, produced by Jack Endino in Seattle, 2001-2004. CD: "Looking at My World". Combination of M.C. on top of live band hip-hop and a taste of soul and gospel background vocals. Incredible combination. Title track is my personal best.
THE 100th MONKEY - SEATTLE Live Hip-Hop Band
LOOKING AT MY WORLD CD (2003), produced by Jack Endino (Nirvana), center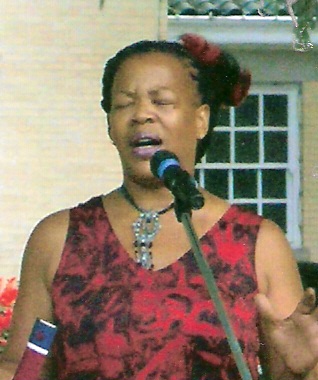 I'm just a dancing fool, yall!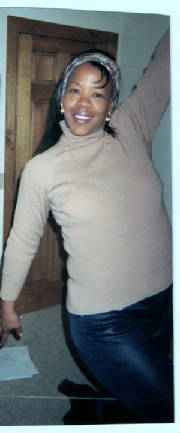 Music is the universal language. Teach the babies.
Birthday: January 10
Birthstone: Garnet
Birthflower: Carnation
Favorite Gem: Pearl

"Now it's come to my attention LOVE has many definitions Mr. Webster never mentioned." I call this loving YOU.



ON MY OWN


Continuing my solo career, I decided to move to Sun Valley/Hailey, Idaho, with my youngest brother, Jamie, and his girlfriend. He said to me, one night: "Bruce Willis (the actor) lives here and owns a club around the corner. They have karaoke!" The club is called the MINT and, well, the rest is history. This was a job for "the secret weapon" (Chain of Fools), especially if I was going to reside in Sun Valley. It has always worked when it comes to musically introducing myself to a new area or venue and, the very next couple of weeks, I received a phone call from the club asking if I would sit in with Bruce Willis and his Accelerators at the Mint. Believe it or not I said I'd have to check my schedule.



2009: Please join me in congratulating my friend, Bruce Willis, on his recent marriage.
A few of my favorite people.
Clockwise: Bruce Willis the actor, Drew Gooden of the NBA , the JGB and Mr. Charlie, Red Key, IN
After a year or more at the MINT, I was leaving to join the Jerry Garcia Band (JGB) on tour. I continued working security for the MINT until my departure. On my very last day, Bruce gave me a barbeque and a farewell party, that evening. He literally had me tracked down insisting I perform my final show with him on Labor day, 2005, and everything I wanted was on the house. It was a 3-day weekend show and I was paid very well. We sold out before the first day of ticket sales saw sunset.



Looking back and laughing, now, I'm reminded of about six more shows, which I would also like to share with you. This is fun. At the MINT, I have also performed with the sweet and wonderful Hal Ketchum, feisty Carlos Washington, gifted Paul Tillottson, exceptional drummer Josh Kelly, Kim Stocking and so many other wonderful musicians who have helped me get my piece of the pie, the same as it is here in Bloomington. What a privilege and a blessing it has been to my life. I keep in touch often and it is well worth the time investment.




From gospel background and a singing family.
Live Wednesdays at the Mint
Watch this site for more of the B-Dub/Miss Loretta Saga.